In addition to helping our customers save money by recycling their own high-value manufacturing scrap, we offer money savings and convenience by keeping a variety of recycled materials in stock, processed into ready-to-use forms, packaged and ready to ship. A majority of our inventory is focused on various grades and forms of PEEK polymer, but there are other materials which are also available from time to time.
Please review the products presented below, and contact us for further information about the items of particular interest to you.
Recycled Polymer Powder Products
We currently offer the following milled powder produced from melt-filtered, recycled  polymers. Powders have been sifted through 140 mesh sieve, yielding a particle size distribution ranging from ~40 to ~106 microns.
PEEK 450G-MP140 – milled from PEEK 450G-type natural polymer
PEEK 150G-MP140 – milled from PEEK 150G natural polymer
PEEK 450G18PTFE-MP140 – milled from PEEK 450G polymer containing PTFE additive.
PEK 2000-MP140 – milled from PEK HT-G22 type natural polymer
PEI 1000-MP140 – milled from Ultem 1000 clear natural polymer
PPS  F0320-MP140 – milled from Fortron 0320 (linear molecule type) natural polymer
Products and Service Capabilities Coming Soon :
PEI 1010-MP140 – milled from recycled Ultem 1010 clear natural polymer
Milled powders of other high temperature and engineering polymers – PPSU, branched molecule PPS, nylon (type PA-12), polycarbonate (high and low flow PC), others
Powders with narrow particle size distribution of 40-60 microns
Extra-fine powders with particle sizes below 40 microns
Coarse powders with particle sizes above 200 microns
Pelletized PEEK Products
RP products are repelletized from clean regrind:
PEEK 450G-RP
PEEK 450MG30-RP (milled glass fiber)
PEEK 450GL30-RP (chopped glass fiber)
PEEK 450CA30-RP
PEEK 450FC30-RP
PEEK 450PTFE18-RP (~18% PTFE)
PEEK HT-RP (from PEK HT-G22 Regrind)
CP products are compounded from clean PEEK 450G regrind and the necessary additives to make the target formulation
PEEK Regrind Products
Granulated from carefully inspected scrap parts, and then cleaned to remove dust, fines, surface residues, and metal debris :
PEEK 450G-RG and 150G-RG
PEEK 450MG30-RG (milled glass fiber)
PEEK 450GL30-RG and 150GL30-RG (chopped glass fiber)
PEEK 450CA30-RG
PEEK 450FC30-RG
PEEK 450PTFE18-RG (~18% PTFE)
PEEK HT-RG (from PEK HT-G22 scrap)
We also have economy grade versions of some of these products, produced from scrap that had minor quality defects.
PEEK Shavings Flake Products
Produced from machining shavings that have been carefully inspected and cleaned to remove foreign material contamination and surface residues :
PEEK 450G-SS
PEEK 450G-DS (higher bulk density than –SS)
PEEK 450MG30-SS (milled glass fiber)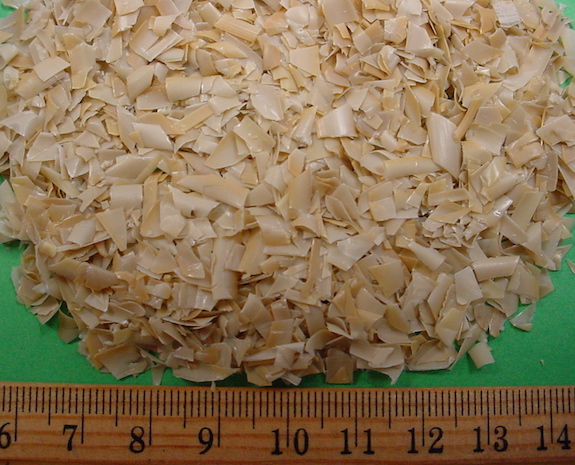 Other Materials Available:
We occasionally have an opportunity to offer materials other than the above-listed PEEK products. The list below shows what is currently available :
| | | |
| --- | --- | --- |
| Description | Form | Quantity (lbs) |
| PU / TPU natural, and black masterbatch | Virgin | 6000 |
| HDPE, wire and cable grade, natural and black | Virgin | 20000 |
| POM, natural, red, gray (separate colors) | Regrind | 7000 |
| PA 12, wire and cable grade, natural and black | Virgin | 21000 |
| Avaspire AV651GF30, gray and brown | virgin | 9000 |
| PEEK 150CF30PTFE15, high flow PEEK 150G polymer with 30% carbon fiber and 15% PTFE. | Regrind | 6000 |
| PEEK 450CA20, low flow PEEK 450G polymer with 20% carbon fiber | Regrind | 20000 |
| PEEK 650CA30, very low flow PEEK 650G polymer with 30% carbon fiber | Regrind | 4000 |
| PEEK Yarn, Victrex brand Zyex multi-fiber yarn in 2-kg bobbins | Bobbins | 300 |
| LCP Yarn, Vectran brand multi-fiber yarn in 1-kg bobbins | Bobbins | 125 |
| PEEK sheet, rod, tube, billet remnants in various dimensions. Mostly unfilled PEEK. | Call for details | Varies |
| | | |
| | | |
| | | |
| | | |